Brands We Carry
Carpet
There is nothing like the feeling of sinking your toes deep into a nice carpet as you get out of bed in the morning. No other flooring can match the warmth and comfort of carpet.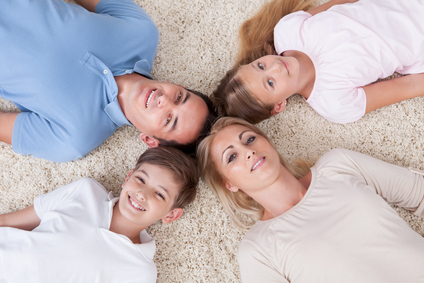 As you can see above, we carry two lines: Bliss by Beaulieu and Shaw. With an almost unlimited number of colors and textures to choose from, you are sure to find one that will fit your style and budget.
Bliss by Beaulieu
Bliss carpet by Beaulieu® has innovative features that make your home, and your life, better. Here's why we carry Bliss and believe in it:
Beaulieu of America, maker of Bliss, is the largest carpet specialist in the United States, so they really do know their stuff. It's the only thing they do. Which is why, dollar for dollar, having Bliss in your home is a top choice.
They continuously strive to understand the needs of the buyer. As a result, they've developed many unique and innovative features. These innovations provide real benefits, not only in a more durable product, but in a better indoor environment as well.
They understand that purchasing carpeting for your home can be confusing and intimidating, so they work to make shopping for Bliss easy. They start by keeping it simple and straightforward. Stop by our showroom and we'll show you what we mean.
What are some of the unique and innovative features that Bliss by Beaulieu offers? Here are just a few:
Magic Fresh® odor reducing treatment works to reduce common odors in your home.
Silver Release® antimicrobial carpet treatment inhibits the growth of odor- and stain-causing bacteria, as well as mold and mildew.
OmniLocTM Modular backing is a superior and environmentally friendly backing made with a high percentage of post-consumer, recycled waste.
Green Smart® eco-friendly fiber is made from 100% post-consumer water and soda bottles and recycled into beautiful P.E.T. polyester fiber.
Wrinkle Guard™ is our high-performance backing that provides for a smooth, wrinkle-free installation, guaranteed.
SoftSense™ is a BCF polyester fiber formulated by Beaulieu and found in Bliss HealthyTouch that is both seriously soft and durable.
PermaShield® advanced stain protection defends your carpet from life's occasional accidents.
Do you live in the Springfield, MO area? Learn more about these Bliss by Beaulieu by scheduling a free consultation or stopping by our showroom.
Shaw Floors
Shaw Floors has been crafting beautiful, durable carpets since 1967. Today, they create flooring of all kinds and are named year after year as a top choice for quality and style by retailers like us. Part of Berkshire Hathaway, Shaw is the largest manufacturer of carpet in the world.
Here's what Shaw Floors thinks is important when it comes to carpet:
Innovation
Their R & D department features a state-of-the-art pilot plant that allows Shaw to develop the innovative products for which the company is noted. The highly skilled associates include designers and colorists who are part of the distinguished Color Marketing Group, and an advisory panel of professional designers from throughout the country meet regularly with our associates to provide input and help create cutting-edge styling.
Quality
Their Technical Services department is the largest of its kind in the industry and includes the Central Laboratory, which is certified under the guidelines of the U.S. Department of Commerce/National Institute of Standards and Technology's National Voluntary Laboratory Accreditation Program (NVLAP). Technical Services performs myriad tests and conducts research to assure the utmost in quality and safety for our products.
Sustainability
Recognized with countless awards and honors, including the U.S. Environmental Protection Agency's Presidential Green Chemistry Award, Shaw is the industry leader in sustainable manufacturing solutions and innovative "green" products. Shaw's Evergreen Nylon Recycling facility is the world's largest Type 6 nylon facility and has recycled more than 500 million pounds of post-consumer carpet since opening in 2007.
Do you live in the Springfield, MO area? Learn more about Shaw carpet by scheduling a free consultation or stopping by our showroom.